Consequences of Evolving Earth by Meteoritic Bombardment
Evolutionists teach that the Earth grew by meteoritic bombardment. If so, consider what would have happened. Earth's mass and radius would have steadily increased and become today's mass (M) and radius (R). While the Earth was growing, these values were variables, me and r.
If a small meteorite of mass, m, falls onto the growing Earth from a distance D, it will deliver
units of heat energy to the Earth, where G is the gravitational constant.  Because
Equation (1) can be simplified to
For each incremental increase in the growing Earth's mass, the Earth's radius will increase by dr.

where the average density of the Earth is
Summing up the total energy, E, delivered to Earth as it grows from a radius 0 to radius R gives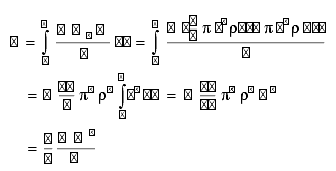 This energy amounts to 3.75 × 1014 ergs/gram.1 To appreciate just how large this heat energy is, recognize that TNT (a powerful explosive) contains only 1.6 × 1010 ergs/gram. Simply stated, the heat delivered to Earth by meteoritic bombardment would be 23,000 times greater than the energy of an explosion of an Earth composed of only TNT.
Planetesimal masses impacting an evolving Earth would range up to 1.5 × 1027 grams. Large planetesimal impacts alone would melt the Earth several times over.
The kinetic energy (~5 x 10  38 ergs) released in the largest impacts (1.5 x 10  27 g at  9 km/sec) would be several times greater than that required to melt the entire Earth." 2
Runaway Greenhouse Effect. Long before the Earth became molten, another problem would occur. The Sun delivers each second an average of 1.39 × 106 ergs of energy to every square centimeter that is perpendicular to the Sun's rays at the top of Earth's atmosphere. This number is called the solar constant. If the energy delivered to Earth by the Sun or by impacts (or both) were 40% greater, the Earth would experience a runaway greenhouse.3 That is, more water would evaporate from Earth's surface, so too much heat trying to escape into outer space would be blocked by water vapor in the atmosphere. That, in turn, would evaporate more water and accelerate the process. Temperatures would rise permanently; life on Earth would be impossible. This is occurring today on Venus where temperatures are hot enough to melt lead.
One writer recognized the problem.
The gravitational energy released during the creation of Earth in 10 8 years corresponds to almost the equivalent of 1 solar constant. If all or most of this energy was reradiated and if the Earth and Venus were made in this time or less, as generally believed, then a runaway greenhouse effect would seem inevitable for both planets.4
The physics is so clear that one must ask why students have been taught for 200 years that Earth formed by meteoritic bombardment (a very slow process), so Earth must be billions of years old. Could it be that challenging this ruling paradigm for Earth's origin would bring condemnation from others, including ones teachers? Would textbooks that show how the Earth did not evolve be boycotted?